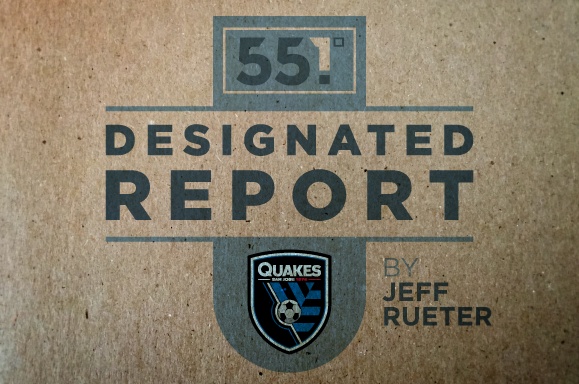 Designated Report: San Jose Earthquakes
In our ongoing series, Jeff Rueter examines the history of San Jose Earthquakes' designated players. The Goonies have only made a few designated player purchases: some unknowns, a flop, and a Wondolowski. 
San Jose has a niche as a sneaky-difficult club to play against. On paper, the California Clasico should be a heavily one-sided affair in Los Angeles' favor due to star-power and an all-out attack. However, San Jose has shown a knack for getting a gutsy goal, as was the case in this month's 1-1 draw. At the center of these results is a stout defense, led by USMNT defender Clarence Goodson and USMNT goalkeeping prospect David Bingham. It also goes against SJ's usage of the Designated Player slot, as well. The Earthquakes have used all five of their attempts at using the rule on attackers. You know Wondo; what about the other four?
Last week, we had our first look at a major-market by studying New York Red Bulls. Despite some major successes (most notably: Thierry Henry), the high cap-figures have caused for some duds to appear even duller (looking at you, Mr. Marquez). It comes as a surprise, then, that San Jose has outspent every team profiled thus far except for New York. Columbus and Sporting KC have been shrewd with their signings, picking up players who have proven themselves in other leagues and are in their primes. They've gotten some great deals, and for a similarly-sized market like San Jose it would make sense to expect similar targets. The results, however, have been mixed.
All transfer sum numbers from Transfermarkt.
All salaries thanks to MLS Players Union surveys.
An asterisk (*) indicates a player who signed their DP deal mid-tenure with club.
Previous installments:
Introduction to Series and Updating Chart of Profiled Clubs
DC United: C
FC Dallas: C+
Columbus Crew: B
Sporting KC: B-
New York Red Bulls: B-


San Jose Earthquakes (founded 1996; revived 2008)
FAVORITE FRUITLESS RUMORS: Thomas Hitzlsperger, August 2012
Geovanni Deiberson Mauricio (2010)
Age When Signed: 30
Average Base Salary per Season: $???
Goals+Assists per 90: 0.347
Pre-DP:
Known simply by his first name, Geovanni was a fascinating player who never quite put it all together. Coming up the Cruzeiro ranks as a youth, it wasn't uncommon to hear his name mentioned alongside other über-prospects like Kaká and Ronaldinho. Playing as either a true #10 or a right winger, Geovanni was sold to FC Barcelona at 21 after being courted by Arsenal and Juventus. For a transfer fee of $19.9m, he was seen as the next great Barcelona distributor. He scored once in 21 appearances, and after a new manager came in during his second year, it was clear that he was out of favor. He was loaned and then moved to Portuguese side Benfica in 2003 for free. To his credit, he was the 2004 & 2005 Benfica Player of the Year, starting to turn his career around.
Citing family troubles, Geovanni went back to Brazil and his original club in 2006, spending a year before transferring to Manchester City the next year. Once again, he scored against Manchester United, providing the only goal in a 1-0 upset. The following July he was released, ultimately landing him with Premier League debuting side Hull City, scoring their first BPL goal against Fulham and adding 11 goals in 60 matches over his two seasons with Hull City. Once Hull were relegated again, however, he cancelled his contract as the side cut costs, making him a free agent.
DP Years:
Geovanni has a strange place in the canon of MLS players. Of the league's entire litany of designated players, Geovanni is the only such player who didn't have a reported salary. The Players Union put out their annual survey of salaries four days before Geovanni's signing was announced, and he never showed up on the following spring's survey for reason's we'll get into shortly. Anyone who can find his salary gets a six-pack of Summit. Good luck!

"We've never really played with any playmaker of this quality," coach Frank Yallop said at the time of the signing. Truth be told, they never really played their playmaker while he was there, either. After signing on August 16, Geovanni made his debut five days later as a starter in the California Clasico. An another two weeks, he scored a goal and added an assist in a 2-1 win at Houston. Over twelve starts, he would only add one more assist to his tally. After bowing out in the MLS Cup semi-finals (where he failed to score or grab an assist against New York Red Bulls and Colorado Rapids), the club decided not to pick up his contract for 2011, and he was out after only 778 regular season minutes.
Post-DP:
He ended up back in Brazil, joining Vitoria in January 2011. He moved onto America-MG in 2012 and then to Bragantino in 2013, serving as a spark of the bench at each stop but failing to make a great impact. He retired at 33.
Grade: D+
Was he a calamity at San Jose? Who's to say? While we don't know his salary figure, we can assume it was above the $500,000 threshold as he wasn't attached to a transfer fee. Unfortunately, it's hard to rate beyond that. If he earned over a million dollars for 12 weeks of football, that would be bad business. The team showed a lot of potential that year and flamed out of the playoffs to the eventual champions, and a creative force like Geovanni would have done wonders to push them over the top. He wasn't a full-on disaster, though.
Chris Wondolowski (2013-2015)
Age When Signed*: 30
Average Base Salary per Season: $591,667
Goals+Assists per 90: 0.589
Pre-DP:
Wondolowski was far from a highly-touted prospect as he worked his way up the ranks. Born of half-Native American descent (from the Kiowa tribe), Chriswas a player at Chico State University, scoring 39 goals over his four seasons. After a season in the NPSL with Chico Rooks), Wondolowski was drafted 41st overall in the 2005 MLS Supplemental Draft by San Jose Earthquakes. He saw the field twice for San Jose before moving the with the franchise to Houston, making 37 appearances with the Dynamo and scoring 4 goals. Struggling to find regular minutes, he was traded back to San Jose in June 2009. While getting his feet wet in 2009, he broke out in 2010, scoring 18 goals and winning the MLS Golden Boot and leading the Earthquakes to the Conference Finals. In 2011, he tied with Dwayne De Rosario for the Golden Boot, losing the assist tiebreaker, before winning the award outright in 2012 to the tune of a league-record-tying 27 goals. He won the MLS Player of the Month in 2012 a record four times, capping his season off with an MLS MVP award over fellow finalists Thierry Henry and Graham Zusi.
DP Years: 
I will not talk about the Belgium World Cup match. I will not talk about the Belgium World Cup match. I will not talk about…
Having already won two Golden Boots and tied for a third, Wondolowski had proven that he could score in MLS. Going into the 2013 season, San Jose decided to lock down Wondolowski as he was starting to draw interest from clubs in Belgium and Germany. While his rate dropped a bit during his three-year DP tenure (combining for 41 regular season goals in 86 matches, also adding 9 assists), it's hard to imagine San Jose keeping the offense churning without Wondo. Internationally, he was the joint-top goalscorer in the 2013 CONCACAF Gold Cup (tied with fellow DPs Gabriel Torres and Landon Donovan with 5 each) and was on the 2014 World Cup roster. For his own thoughts on what fell out after that fateful match, check out this piece from Grantland by Jordan Ritter Conn. Heading into the 2016 season, Wondolowski's salary hit was bought down by the organization, making him below the DP threshold as they pursued another player.
Post-DP:
Still with San Jose, Wondo has been scoring at a feverish pace once again. Before getting the call for the Copa America Centenario, Wondolowski scored 7 goals and added 2 assists in 12 matches, putting him in line to contest for the Golden Boot before his absence.
Grade: B+
While his individual performance was as reliable as ever, the club failed to make the postseason in any of Wondolowski's three DP seasons. That said, that has much more to do with the play of his fellow DPs as well as coaching changes, injuries, and the growth of young goalkeeper David Bingham. With 116 goals, Wondolowski has passed the likes of Ante Razov, Jason Kreis, Dwayne De Rosario, and Taylor Twellman on the MLS All-Time Scoring Leaderboard over the past couple of years. At 33 years old, there's a very good chance that he'll push even higher.
Matias Perez Garcia (2014-Current)
Age When Signed: 29
Average Base Salary per Season: $216,000
Goals+Assists per 90: 0.351
Pre-DP:
A 5'5 Argentine attacking midfielder, Perez Garcia struggled to find success for the opening part of his career. He began playing with Lanús of Argentina's Primera Division at age 18, making just 4 appearances between 2002-2006. After a couple of loan-stints with second division sides C.A.I. and Talleres, he was signed by Uruguayan club C. A. Cerro. They also sent him off for his entire tenure, failing to field him while he was on their roster and loaning him to Atlanta and Chamois Niotais of Argentina and France, respectively. He moved in 2010 to Argentine side All Boys, playing 51 games and scoring 5 goals, finally starting to show some of his playmaking promise. In 2012, he moved to Tigre (still in Argentina), scoring 13 goals in 63 games for the first-division side. He was transferred to San Jose in the summer transfer window in 2014 for over $2,000,000.
DP Years:
Perez Garcia stumbled out of the gate, playing a few matches before tearing a knee meniscus and missing 6 weeks of action. He also had a rocky 2015 season, hitting 1 goal and 4 assists by the All-Star Break and prompting an amusing debate between San Jose redditors about if he's valuable or not. As San Jose found himself in the thick of the playoff race at the end of the season, Perez Garcia both saved and doomed their season in the late-season match against rival Real Salt Lake.
In the 87th minute, Quincy Amerikwa chested down a deep ball and it skidded away from Shea Salinas. Perez Garcia found the ball trickling his way and kicked it toward goal, ricocheting it off of defender Jamison Olave and into the back of the net. The goal both kept them in contention with Sporting Kansas City for the sixth seed and essentially eliminated RSL from the hunt. In celebration, he tore his jersey off. There was just one problem: he was already on a yellow card for an earlier infringement. He was sent off and suspended for the next week's matchup, which San Jose drew 1-1 in a pivotal home match against Vancouver. He was back for the team's final two matchups, helping earn a win against SKC before getting shown a red card again in the final match (67′) against FC Dallas, giving him two reds in three matches. He's played in 12 matches (659 minutes) this year so far, notching 1 assist.
Grade: D
It's a testament to his maddening inconsistency that a player on such a low salary could have such a low rating. He averages a shot-on-goal every two games, has played 68.3 minutes per game, and has only scored 3 goals with 9 assists in his time in San Jose. His salary isn't a hindrance, but that $2,000,000+ transfer fee now seems pound-foolish.
Innocent Emeghara (2015-Current)
Age When Signed: 25
Average Base Salary per Season: $988,000
Goals+Assists per 90: 0.148
Pre-DP:
Born in Nigeria, Emeghara began playing in Switzerland as a way to get used to a new country. At 17, he was picked up by FC Zürich II, ultimately making his top-tier debut with FC Winterthur and Grasshopper Club Zürich (seriously, Swiss clubs have the best names) before moving to French side FC Lorient in 2011. He scored 5 goals in two years of part-time play, while also making his senior debut for Switzerland that year in a EURO 2012 qualifier. After the tournament, he moved to Italian side Siena, who were relegated in 2013 and became liquidated a year later, forcing him to sign with Azerbaijan Premier League club Qaraba? in October 2014. After just three months, he left abruptly to trial with HSV Hamburg and some unnamed MLS sides.
DP Years:
Innocent was signed in January 2015 for a salary just shy of $1,000,000. An incredibly pacey striker, his speed looked like the perfect compliment to Wondolowski's poaching and had Earthquakes fans excited at the frontline's potential. After scoring in his first start against Seattle, Innocent tore his meniscus in a game against Real Salt Lake, forcing him to miss the rest of the season. He's started once and subbed on five more times, failing to score a goal thus far.
Grade: C-
The definition of 'incomplete grade'. Even in Wondo's absence, Innocent was unable to regain a starting position, indicating that he's not as fully recovered as previously hoped. However, he's only 28 and has plenty of time to turn this around.
Simon Dawkins (2016-Current)
Age When Signed: 28
Average Base Salary per Season: $800,000
Goals+Assists per 90: 0.262
Pre-DP:
An attacking midfielder out of Jamaica, Dawkins was signed to the Tottenham academy at 17. He was loaned to Leyton Orient at 20, getting 11 matches with the club after injuring his ankle (against Tottenham, ironically enough). Tottenham ended up releasing him in 2009, resigning him a year later and he had proven he would be able to stay on the field. Rather than play him, he was loaned to San Jose in 2011 for two years, where he scored 14 goals in 53 matches. He was a fan-favorite: North American, tactical, and aggressive. At the end of his loan, San Jose began negotiating with Tottenham to try and secure Dawkins on a permanent move. However, he was instead loaned out to Aston Villa, making his Premier League debut at 25. After the spring, he was loaned to Championship side Derby County, ultimately earning a full transfer and combining for 7 goals in 63 matches over three years. He also made his first appearance for Jamaica in 2014, having earned 19
DP Year: 
Much like Henry-to-Red Bulls, Dawkins was a rumored transfer target nearly every offseason following his loan stint. After four years of courting, he was transferred for an undisclosed fee on January 6. In thirteen matches during this early season, he has a goal and two assists, helping San Jose stay in the playoff chase despite losing Wondo to international duty.
Grade: C+
After only thirteen matches, his performance has been right around par. However, he's still a major figure in San Jose and his leadership has grown immensely for the squad. The intangibles make him an asset; his on-field product makes it tough to justify anything in the 'B' range, however.
San Jose Earthquakes Recap:
Average Signing Age: 28.4
(Known) Average Base Salary: $648,917
Average Grade: C
San Jose just hasn't seemed to crack the code yet. Wondolowski was a smart piece of business to keep a club legend in their ranks. Dawkins allowed for a reunion with a former success story, and Emeghara is a fully-open case. That said, the mysterious Geovanni signing was a sad attempt at using the rule to bolster a playoff contender. Further, Perez Garcia has been impossible to rely on and hasn't been able to connect with Wondolowski to form a lethal attack. Despite a coaching change in 2013, the club has yet to form a solid attacking identity despite using all five signings on attackers. Something has to give, but considering that they've outspent every team we've profiled aside from New York thus far, a C seems like a fair grade.
Next week: New England Revolution
Tags: Chris Wondolowski, Designated Player, Designated Report, MLS, San Jose Earthquakes, Simon Dawkins