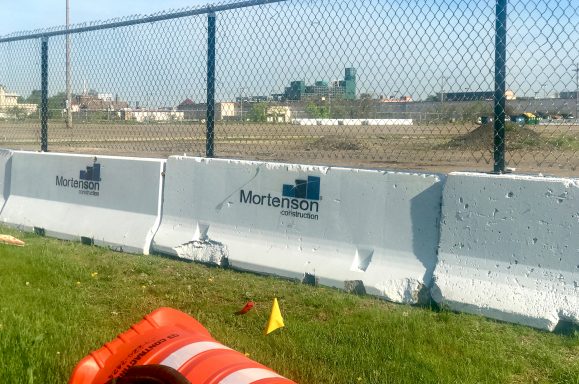 Despite Complex Land Deals, Minnesota United Stadium Progresses
Last week, the Minnesota State Legislature passed a tax bill that included breaks for Minnesota United's self-funded stadium. Team owner Bill McGuire said his confidence level was "high" that the governor would sign the measure. All parties involved with the construction of the stadium and redevelopment of Midway Center seem optimistic, but complex land and lease structures continue to hamper progress.
Editors note: 5-30-17  6:00 p.m.
(Governor Dayton said late Tuesday afternoon that he will not veto nor sign the tax bill meaning, he will allow the measure to go into law. This action approves the tax breaks Minnesota United had requested for their St. Paul, Midway stadium.)
Both the House and Senate passed the omnibus tax bill late last week. The bill includes tax exemption to the 'bus barn' property that the Minnesota United stadium will sit on. It also provides an exclusion of sales tax on building materials. Governor Mark Dayton, who has been supportive of the stadium tax breaks, said he was "genuinely undecided" whether to sign the bill into law. Starting on Saturday, the Governor has four days to sign the bill or veto it. With no state tax bills since 2014, the pressure will be on Dayton to sign the measure even if there are portions he doesn't like.
McGuire met with the press at halftime of Saturday night's game against Orlando City at TCF Bank Stadium to update the progress being made on the facility. "He [Dayton] and the other people in the legislature have all said that they will [sign]. We know it's part of a complicated set of items but there's a lot of important items in that tax bill along with us, so I think it will happen," said McGuire.
Stadium details
Mortenson Construction barriers have been placed on the southeast corner of the Midway Center property. Meanwhile, utility preparation has been completed with all power lines along St. Anthony removed and placed underground. Still, McGuire said he doesn't foresee construction starting until sometime in June or early July and projects a 2019 season opener at the new Minnesota United stadium. "The field will be heated with an air system under that. It will be very much like the Twins [stadium] because we want to be going by mid or late March," explained the Loons owner.
With the late winter start date, grass will need to be planted and growing by the fall of 2018.
He also told Channel 29 the field dimensions would be 75 x 120 yards making it one of the larger fields in MLS.
"It's obvious that a lot of things go on that you don't get to be privy to," McGuire said. "There are a lot of people working every day in parallel. It's moving ahead and we are in good shape. As of yesterday, all the plans are 95% complete and now we are focusing on a few details."
McGuire said they have spent countless hours and millions of dollars, securing contracts for materials, steel, cement, prefabrication and elevators. "In general, people want to see something that's physical and I'm sure there's some anxiety until that's going on."
Complicated land deals
If the governor signs the tax bill into law, it will mean another major hurdle has been crossed for the team. However, there are still many smaller hurdles to navigate before all the boxes are checked off and stadium construction goes into high gear. The 35-acre 'super block' site (which includes the Midway Center and bus barn) sit on eight separate tax parcels. The stadium will sit primarily on the bus barn property which is owned by Metro Transit but will edge into the southeast portion of Midway Center. In addition, the stadium will need two more acres on the north end of the stadium. Currently, at least six businesses are located there, including SuperValu's Rainbow Foods.
The St. Paul Port Authority (SPPA) was called in because of the complexity of the land deals, taxes, mortgages on different parcels, and leases that are currently in place. Many of these deals are long-term.
Lee Krueger, president of the SPPA, comes from a retail background. He said that retail leases are often far more complicated than industrial or commercial deals because of the legalities of the leases themselves.
"There are a number of parties involved with accomplishing this entire redevelopment, above and beyond just the stadium development," explained McGuire. "It includes the: Port Authority, the city of St. Paul, Metro Transit who are involved with the bus barn site, RK Midway who owns the property in several different parcels that have different sorts of financing or no financing, and then Irgens Development out of Milwaukee who have come forward and want to be involved in developing the site."
Master lease
The SPPA set up a master lease deal that would create a partnership between all the parties that McGuire mentioned, each owning, leasing or managing 13 different parcels.
That deal was struck nearly two months ago but still has not been finalized. Krueger told FiftyFive.One in an email on Thursday that "everything was dependent on lender approval. That's where we remain." The SPPA did not give a reason for the delay in the approval of the loan. Once the lender approves the deal between the four parties, they will most likely still need at least 60 days to give the notice to vacate. That means it's likely that any demolition of the Midway Center would not happen until late summer and more likely take place in the fall.
When McGuire was asked about the reason for the hold up, he replied that he didn't think it was a problem as much as a timing issue. "It's really just a matter of bringing all those things to bear – synchronizing this with the understanding that there are some mortgages on some of the properties and they have to be honored."
McGuire was asked about the SuperValu property mortgage and a report that the bank wanted a hefty fee for paying if off early. McGuire said he couldn't comment on the particulars. "I wouldn't necessarily believe everything you hear," he warned.
KSTP reported on Monday that St. Paul City Council member Dan Bostrom (also a member of the St. Paul Port Authority) said it was too early to predict if lease and mortgage negotiations could drag on and potentially jeopardize the development plans surrounding the stadium. "We do not know right now how this is going to play out or what any deals are going to look like, but every time you turn the page it seems to get more complicated," said Bostrom.
"We are continuing to plug away," Kruger said. "It's kinds of like watching baby ducks on a pond. It may look calm on the surface but we are all paddling away like crazy under the surface. That's really where we are at right now. There are a ton of things being done but I don't have anything completed to report on."
In a previous interview, Krueger used the downtown St. Paul Dayton's building renovation as an example of a project that took a long time to get moving. However, once it did everyone was surprised how quickly construction progressed. He said the same thing will happen at the Midway stadium site.
---
FiftyFive.One is now on Patreon. Do you like the independent coverage of soccer news from Minnesota and beyond that FiftyFive.One offers? Please consider becoming a patron.