Minnesota United FC Posts First Shutout of the Season, Beat Vancouver Whitecaps 1-0 at Home
Minnesota United FC survived a red card and the onslaught of Vancouver Whitecaps' offensive might to hold onto a 1-0 win over their Western Conference rivals. Miguel Ibarra had the only goal of the game.
Three weeks after one of the biggest blizzards in Twin Cities history, Minnesota was treated to an absolutely beautiful spring afternoon. While the crowd was late in showing up, they were loud and made their presence felt in the waning minutes of the second half.
Lineups
With the Loons battling injuries, Heath trotted out a new look lineup that included two new signings. Winger Alexi Gómez, on loan from Universitario de Deportes, came on in relief last week against Houston Dynamo. This week, Minnesota traded Sam Nicholson for Eric Miller, who is already out on the pitch for his hometown club. Mason Toye got the start up top for the Loons in place of the injured Christian Ramirez and Abu Danladi.
In goal, Bobby Shuttleworth got his third start of the season, with Francisco Calvo and Michael Boxall as the center back pair. Opposite newcomer Miller was Jérôme Thiesson at right full back. In center midfield with Ibson and Rasmus Schüller with Ibarra on the right opposite Gómez. Up top with Toye was Darwin Quintero.
First half
The game started with end-to-end action, with both teams earning corner kicks but being unable to convert on their chances. Quintero and Gómez both found space to create opportunities along the right side, but couldn't connect on their crosses.
Vancouver had the best look in the early going with a perfectly weighted long ball to Vancouver's Anthony Blondell. With Boxall and Calvo on him, he was able to get a quality shot off, but Shuttleworth was there to palm the ball away.
On Minnesota's ensuing possession there was a shout for a penalty kick after Quintero got mixed up with defender Kendall Waston and fell to the ground grabbing his face. No penalty was given.
The new attacking foursome of Gómez, Ibarra, Quintero, and Toye were creating great movement with their passes and dribbling, but could not seem to find a way through the Whitecaps defense.
A game that featured two teams playing a bend-but-don't-break defense, both created good chances, but couldn't convert on any of them.
As the half went on and the temperature rose, the players started taking their frustrations out on each other and the ref. Quintero knocked down Felipe Martins in retaliation and earned a yellow card, while the restart seemed to include someone yelling at the ref.
Second half
Without a goal in the first half, it was clear that Minnesota was going to look for an early goal to get ahead at home.
Instead, Toye got into a tussle with Kendall Waston in the box and elbowed him. The refs only caught the response, and not what Waston had done before, and Minnesota would spend the remaining 40 minutes down a man.
Down a man, Minnesota had to shift into a counterattacking team, absorbing pressure and finding their chances on the counter.
And find a goal on the counter they would.
In the 60', Vancouver had them hemmed in Minnesota's defensive third, but a long ball to Quintero finally broke the press. Gómez was streaking down the sideline and crossed it to Ibarra. His first shot was stopped, but he put the followup in.
After the goal, the game opened up as Vancouver saw their chance for one or even three points slipping away. Kei Kamara coming off the bench had multiple great looks at goal, including one that rattled the post.
In the 77', Heath brought in two players. Collin Martin replaced Gómez to help with midfield control, and Wyatt Omsberg came on for Ibarra to put 5 at the back.
In the 82', Miller went out with an apparent knock, a blow to Minnesota if it turns out to be serious.
After the restart, Shuttleworth had a fantastic save on a Brek Shea's shot. Shuttleworth played out of his mind, facing 17 shots and making 6 saves.
Vancouver got six minutes of added time, but couldn't get anything from it, and Minnesota ended the game down a man, but earning their first shutout of 2018.
Three stars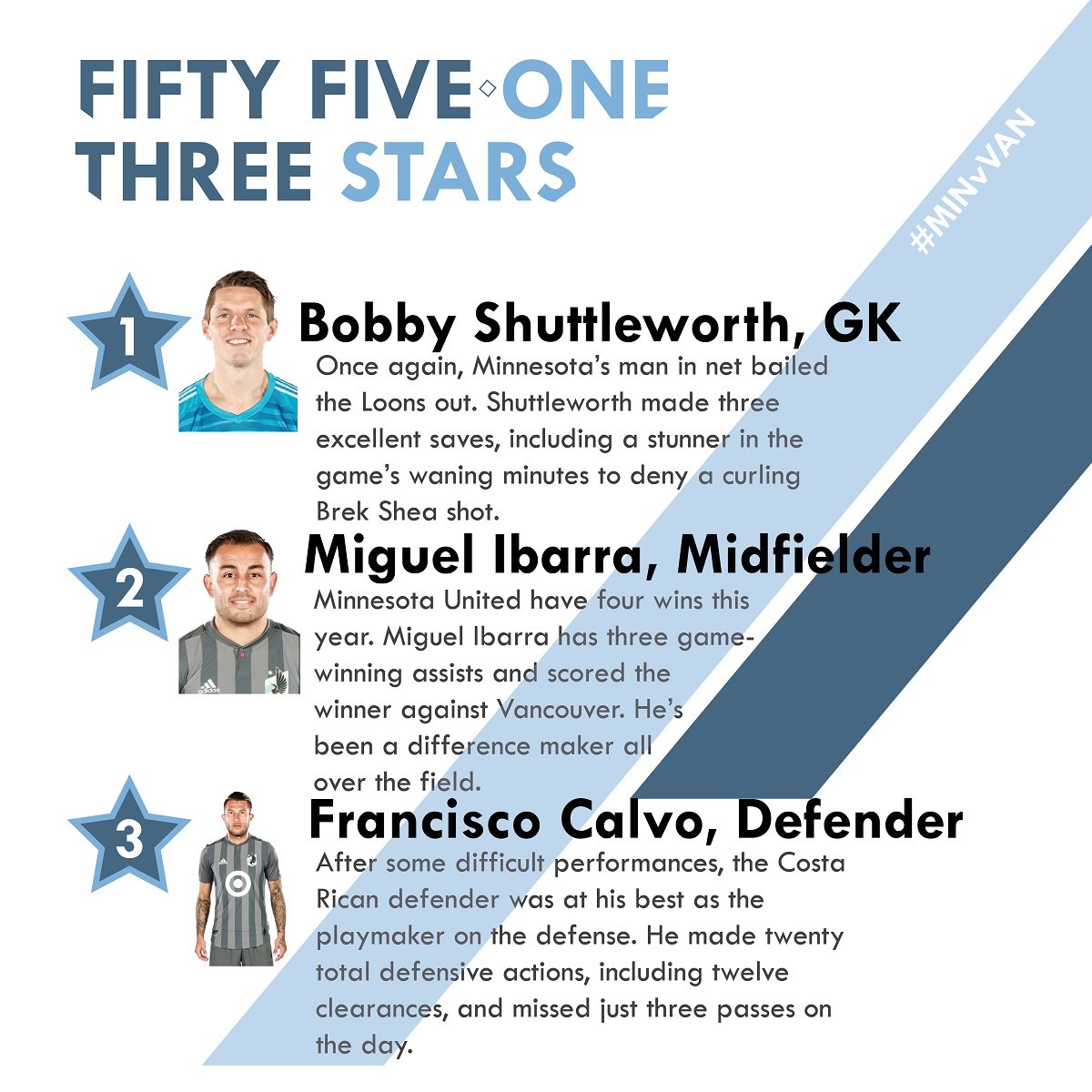 ---
FiftyFive.One is now on Patreon. Do you like the independent coverage of soccer news from Minnesota and beyond that FiftyFive.One offers? Please consider becoming a patron.
Tags: game recap, Miguel Ibarra, Minnesota United FC, Vancouver Whitecaps FC